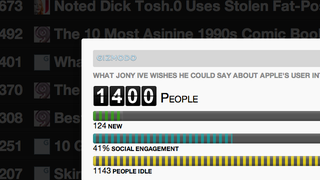 When I first visited Gawker in SoHo last September, I was sure it was one of the most uniquely chic offices I had ever been to. The first thing I noticed was the Big Board, a huge television screen displaying in real-time which articles were performing the best on the blog network. I had no idea that at some point I'd be working with the code that makes that display function.
As part of a special program at my high school, instead of attending class on Wednesdays, I had to apply and work at an internship full-time. In search of something that encompasses my background in web and mobile application development, I began work as an intern with the Gawker Tech team, where I was given an incredible amount of autonomy and flexibility to pitch and choose which projects I wanted to work on. Among these projects, I'm particularly proud to announce the launch of the Gawker Interactive Big Board.
Interactive Big Board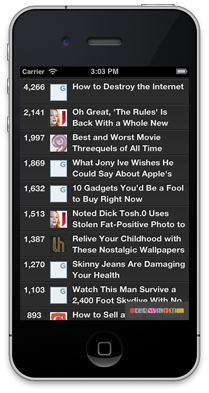 The idea for the interactive big board was conceived after Scott Kidder asked about improving front-facing analytics, stressing transparency as an important goal of the Gawker Media Group. I created the big board in hopes that it would not only be useful for Gawker writers and editors internally, but also so it would gain popularity with regular blog readers of the Gawker network. Through this project I learned how to use and integrate the Chartbeat API with the internal Gawker Sponge API as well as create code that is maintainable in the future. Going forward, the code can be adjusted to more closely monitor a metric such as comments or Facebook shares. You can check out the interactive big board by clicking here.
Clicking on a story calls up a panel that updates in real-time the number of people reading that story, how many of them are new visitors, what percent came from social media and how many people are idle-all from the Chartbeat API. The panel also displays the number of total visitors, unique views and comments from the Gawker Sponge API.
With my background in developing for mobile, I also adjusted Chartbeat's CSS and JS to create a mobile-friendly version. I made it work particularly well if you add the webapp to your home screen, so it functions just like a native app. You can check it out here if you're on your mobile device.
The awesome office and interactive big board aside, here are some of the other highlights from my time working at Gawker.
Monthly Metric Report. Besides a number of small tasks, the first major project I worked on was writing scripts to pull data from the Google Analytics API to keep track of monthly stats of all eight blog on the network for the people working in marketing and advertising.
Automating Global Metrics Reports. My success writing the scripts to automate monthly metrics reports lead me to another project which helped one of my co-workers automate a task that otherwise took her four days every month to complete. The global metrics reports gave monthly stats for a particular region or country.
A Lesson in Code Maintainability. Picking a project was tricky at first because in a production environment, whatever code I write has to be maintainable by the team at Gawker long after I am gone. This means that if I pitch a project that requires a special technology or programming languages that the team was unfamiliar with, than the project idea would most likely get shot down. This is exactly what happened when I initially pitched mockups for a Gawker Stalker mobile app.
Local Lunch. Wednesday also just happened to be free lunch day at the office. It was really cool to try something from a different local New York eatery every week.
Today being my last day at Gawker, I feel that I am very fortunate to have had the opportunity to work here. It's not everyday that Gawker will be willing to pick up a random high school student to work for them, so I feel incredibly lucky to have had a friend/mentor like Ramit Sethi to give me an introduction to the team at Gawker. In particular, I would like to thank Scott, Tom, Nick and Jeremy for making this a worthwhile experience. In the fall, I'll be starting school at MIT where I'll take with me all of the experience I gained while working with the awesome team here.